I decided to flip a coin to pick which book to read first. Then, because it's a special occasion and I do enjoy being fancy, I decided to use one of my (many) coins from pre-Euro Europe. Except I can't remember where they are - the jar they used to be in is empty.
I knew there had to be an online coin-flipper, and there is. It lets you choose from any number of kinds of coins, and after some experimenting, I settled on Chinese 150 Yuan - Year of the Dragon.
Dragon side would be Fairyland (of course! too bad there's no coin with a wyverary on it); Great Wall side would be
Necromancing the Stone
.
I "flipped" .......................................................
and - ta-da!!!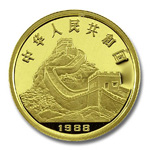 I will be reading Necromancing the Stone first!